Voice Mail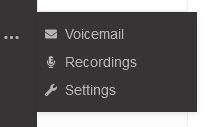 Click the 3 dots at the bottom of the Main Menu on the left.
From the Settings Sub Menu click Voice Mail
This will open up all of your voicemails.
You may Right Click on a Voice Mail to provide options to Hear It or Delete it.
Bear in mind, if your Voice Mail has been set to deliver all voice mails by email and delete them after delivery, your voice mail box here will be empty.