Status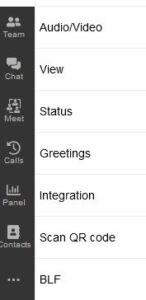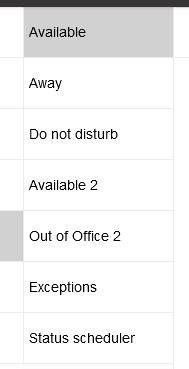 This configures your Status across all devices.
You have 5 Statuses you cam configure:
Available
Away
Do Not Disturb
Available 2
Out of Office 2
You can change the Status Name to something that makes sense to you. For example you could change Available 2 to Lunch and Out of Office 2 to Vacation.
Selecting each Status allows you to configure what happens to incoming calls.
Notice that in all cases the System differentiates between Internal and External Calls. If you set your Status to Away, as an example, you may wish Internal calls from members of your team to go to your cell phone, but External calls to go the extension of the Member that is filling in for you while you are away.
NOTE: In order for calls to go to your Cellphone, your cellphone number must be added to your account. Please call our Help Desk at 770-929-1155 Option 1 and speak to a Team Member to check for you and add it if necessary.
The Push selectyion at the bottom allows calls to be pushed to your Smart Phone. If you have the App installed on your Smart Phone and Push is checked, then an incoming call will launch the App if it is not running and take the call, If Push is unchecked, calls that come in will not ring if the App on your phone is not running.