Recordings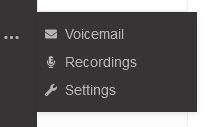 Click on the 3 dots at the bottom of the main menu of the left.
On the Sub Menu click Recordings.
This will show all of the recordings for your extension.
Right click on any recording to download it, play it or delete it it.
NOTE: In order for calls to be recorded call recordings for your system and your extension has to be enabled. If you want calls to be recorded and you want to be able to see the recordings, please call our Help Desk at 770-929-1155 Option 1 to speak top a Team Member.